about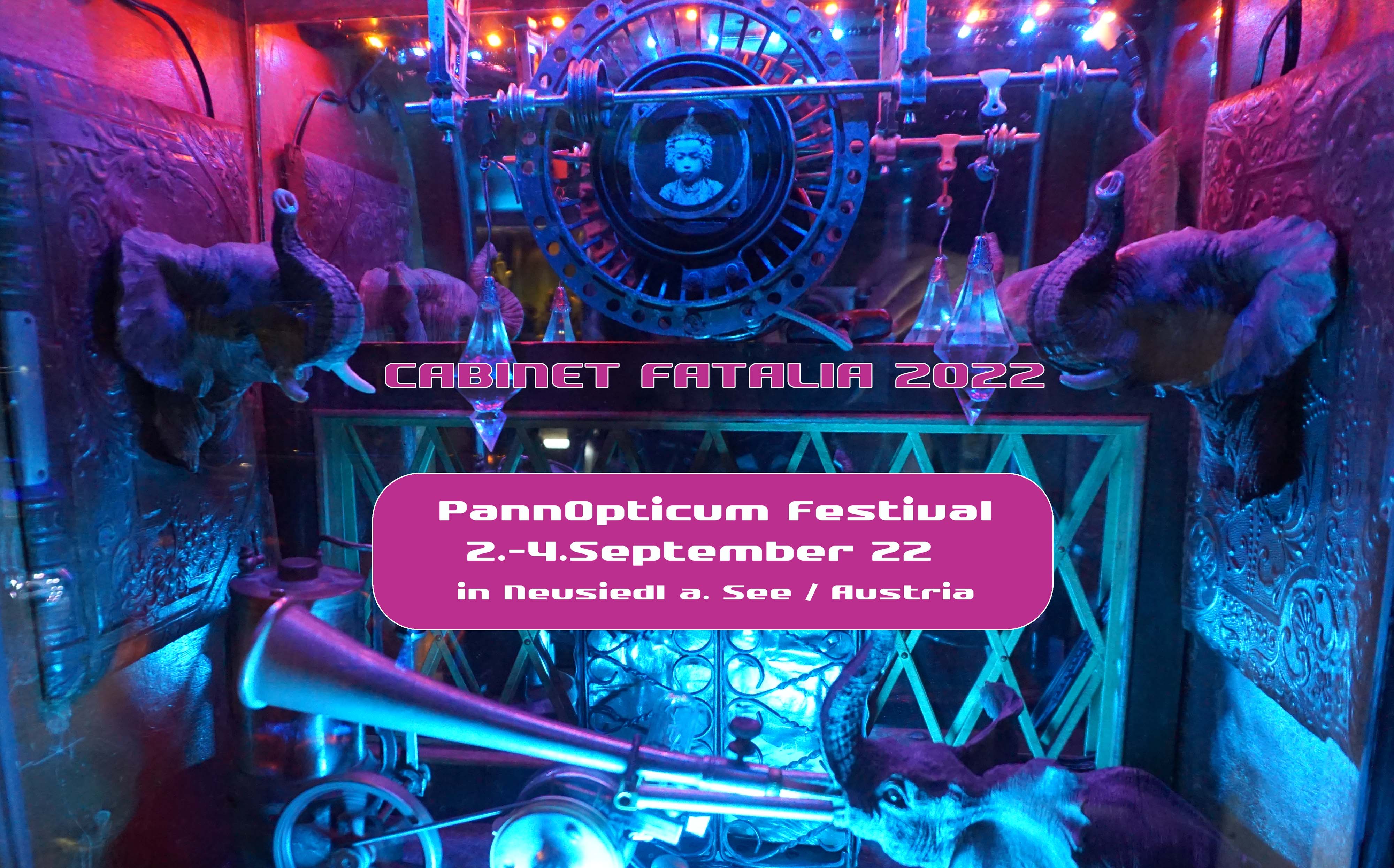 Cabinet Fatalia bem PannOpticum Festival
in Neusiedl a. See/Österreich
02. - 04.09.2022
mehr Informationen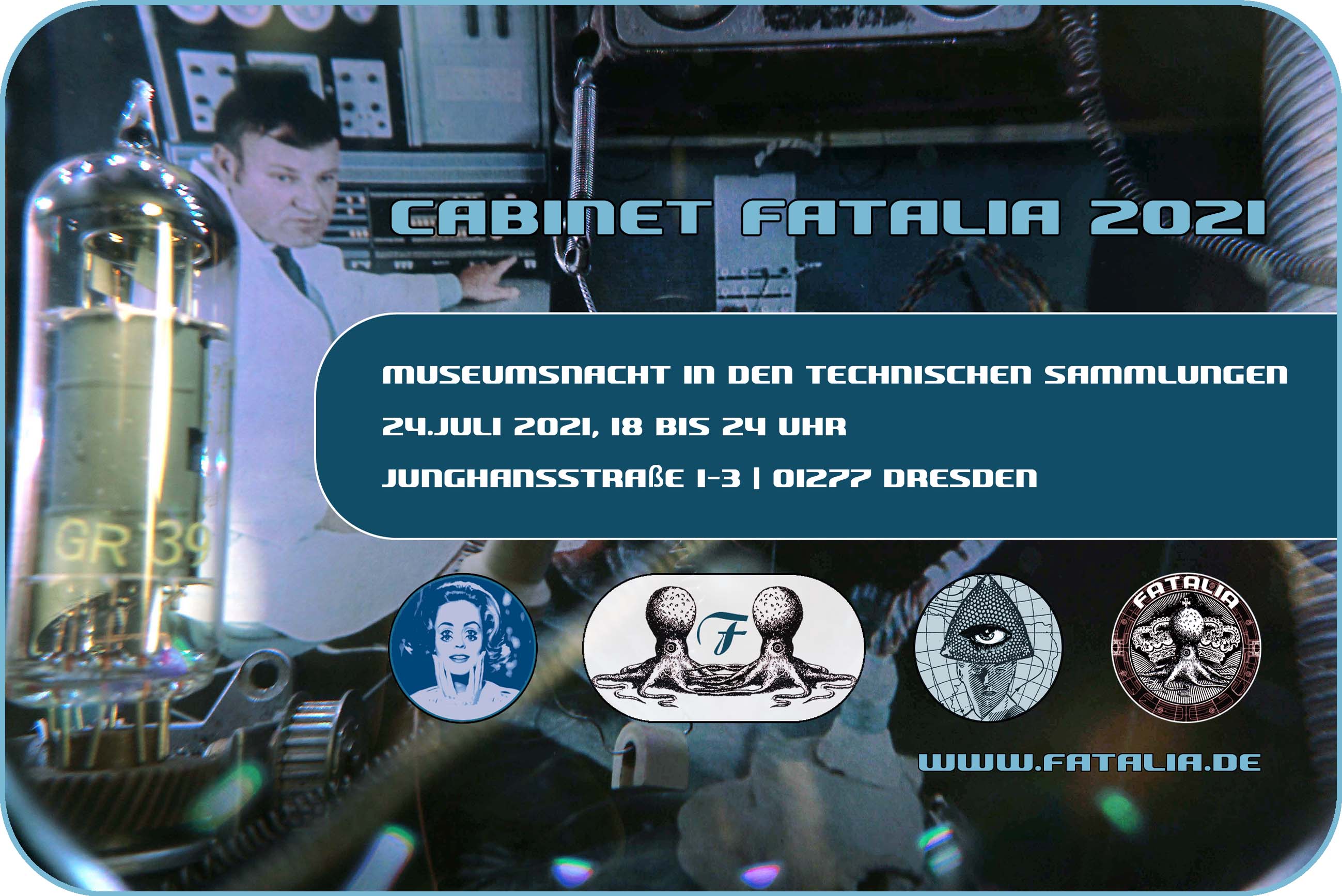 Cabinet Fatalia bei der MUSEUMSNACHT DRESDEN 2021
Technische Sammlungen Dresden (Junghansstraße 1–3)
am 24. Juli 18–24 Uhr
mehr Informationen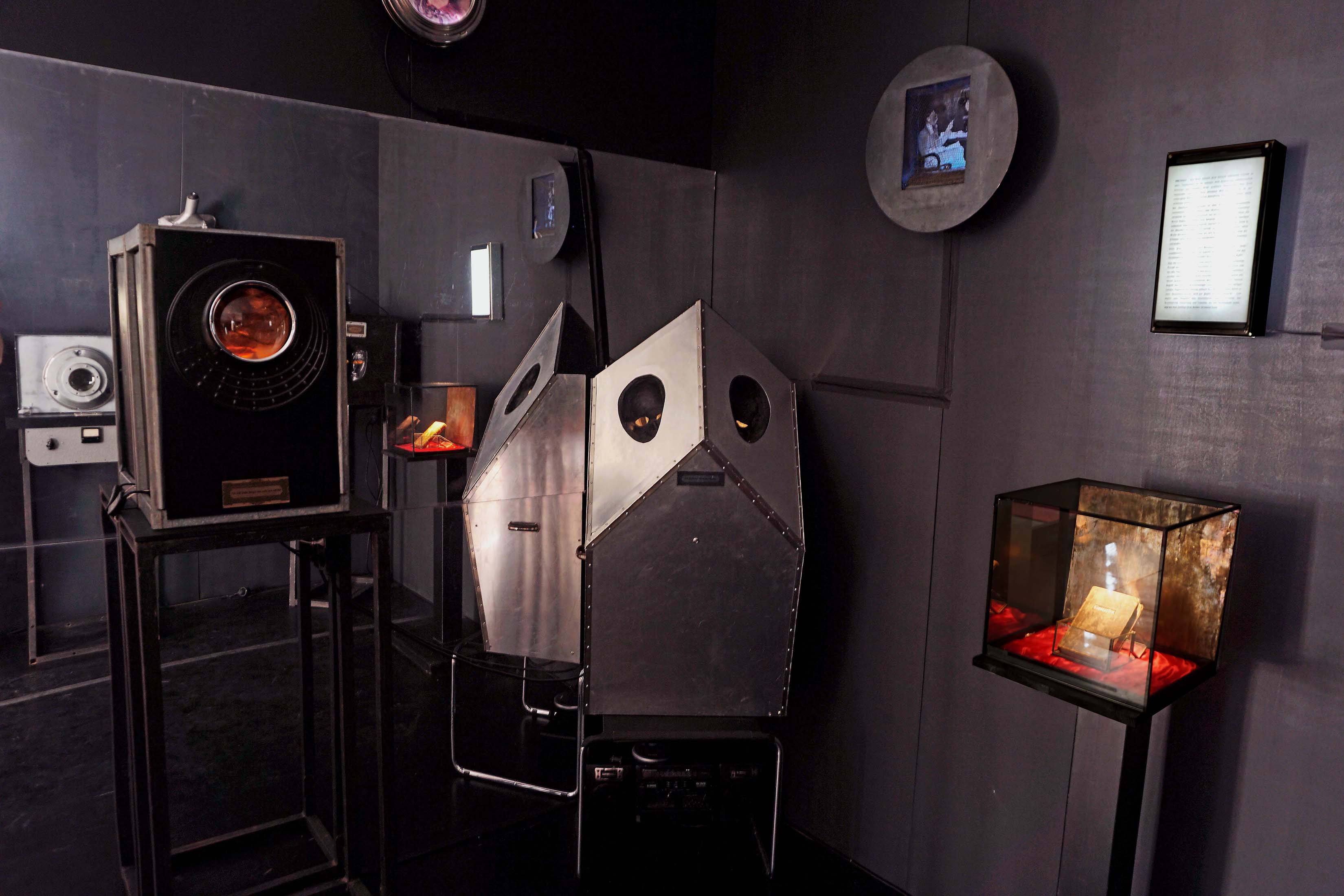 Cabinet Fatalia im Societaetstheter Dresden (Foyer)
11.09.2020 - 30.03.2021
mehr Informationen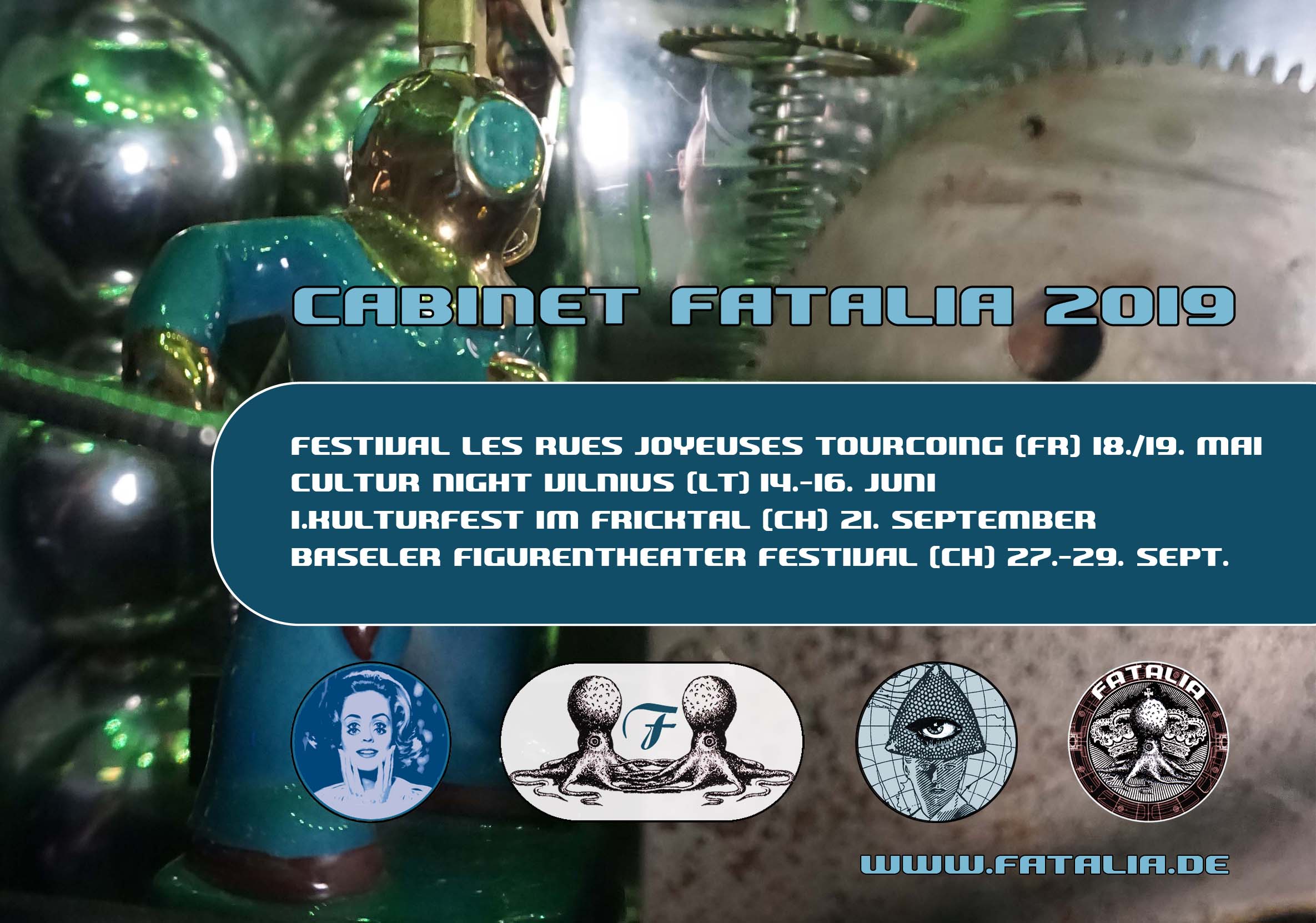 deutsch
Cabinet FATALIA – changierend zwischen Objekttheater, Wunderkammer und Klangexperiment – offeriert einen Imaginationsraum surrealer Schauobjekte.
Dem Mobilitätsgedanken folgend, befinden sich die FATALIA-Objekte im Inneren eine Busses. Eingebettet in eine raumgreifenden Spiegel-Installation werden obskure Interieurs, filigrane Miniaturen und skurrile Assoziationsmaschinerien präsentiert. Motoren, Federmechanismen, vibrierende- und rotierende Automaten beleben Phantasien aus dem Inventar verschwundener Modellbausätze. Sie finden in verborgenen Klangquellen eine akustische Entsprechung. Nobles Filterbrummen und blinkende Transistoren kultivieren eine Aura komplett analoger Maschinenromantik.
Optische Manipulationen, Dioramen und mikroskopische Innensichten verändern Perspektive und Raumerfahrung, werden zur Bühne seltsamer Versuchungen und visueller Transaktionen. FATALIAs Schauobjekte sind poetische Versuchsanordnungen, die spielerische Neugier mit subtil ausbalancierter Fabulierlust verknüpfen.
Es entsteht ein wunderbar verwirrendes Schaustück, in welchem Schönheit jederzeit auf der Kippe steht, Erhabenes prekär erscheint und herzerwärmende Melancholie auf einem zart verstimmten Klavier gespielt wird.
english
FATALIA - in form of a visual arts project - combines elements of freakshow, objecttheatre and cabinet of curiosities. The 6-wheel-mobil includes a chamber of mysterious viewing boxes, strangely animeted furniture, convulsive forms and phantom guests.
FATALIAs viewing boxes are miniature constructions and hermetic dream worlds, in which secret desires, memories and present perceptions coexist.
They are part of a mirror installation, where images travel from place to place like a carnival with its machines, masked actors and sense of dangerous otherness. FATALIA´s interior is a playful phantasmagoric mixture where the marvellous is revelated, mysterious objects like cells of the mind speak of a space alive with psychic meaning.
The performance marries street theater with the sideshow, mixing the strange with the everyday, the domestic with the marvelous. That is FATALIA: the kick in the midst of tranquillity, the inopportune desire, the surprising transformation...a turbulent sea floods a luxuriously appointed room and a maiden metarmorphoses into a fabulous monster, a ferocious creature...!
français
FATALIA est un amalgame réunissant théâtre d'objet, cabinet de curiosités et chambre des miroirs magiques.
Des objets lumineux, des illuminations phantomasques et des imitations oniriques sont exposés ici. Ainsi, des aspects de l'existence humaine: comme l'enfance, la nostalgie, le désir, le monde des rêves, l'impossible.
FATALIA jongle avec des résonances de sons aphysiques, labyrinthiques ainsi qu'avec des clins d'œil de réalité, d'illusion et d'utopie.
FATALIA se nourrissent de la possibilité et dur désir de infiltrer en permanence le monde des choses par l'intervention du monstrueux et par l'enchantement de l'inattendu et de l'ipensable.
C'est ca le FATALIA: le coup de pied dans le calme, le désir inopportun, la mutation surprenante. Tout ce qui s'emballe, ce qui nous échappe, l'irrationnel, ce qui va au-delà de la prévision logique: pourquoi une mer déchaînée inonde une pièce luxueusement meublée et qu'une jeune fille se métamorphose en endriague...
Nos objets sont installés dans un bus dont la paroi arrière (servant de porte d'entrée) est dissimulée derrière une façade.